20 Amazing Hotels In Striking Locations You Must Visit
20. The St. Regis Bali Resort – Nusa Dua, Indonesia
Boasting uninterrupted views out over the shimmering Indian Ocean, with lush green gardens and pristine white sands all around, The St. Regis Bali Resort offers a luxurious slice of paradise for those keen to get away from it all. Set in stunning Nusa Dua, there are 123 stylish suites and villas to choose from, some with private access right onto the beach and all providing the ideal retreat for guests seeking tropical bliss.
Take a dip in the crystal blue saltwater lagoon or lie back on a lounger and listen to the waves gently lapping at the shore, relaxation comes easy here, with the pace of life slow and your agenda your own. Indulge at the spa or take time out in the well-stocked library, you'll find this a peaceful place indeed. With no detail overlooked and all needs catered for, you'll never want to leave.
19. Serengeti House – Singita Grumeti, Tanzania
Designed with exclusive use in mind, Serengeti House calls to those seeking stylish and sophisticated safari living. Set amidst one of Africa's most iconic conservation areas, this is a location that is impossible to beat, with uninterrupted views from the slopes of Sasakwa Hill out over the Serengeti and wonderful wildlife all around.
Like to get up close and personal with the awe-inspiring animals? The elephants, in particular, like to visit, whilst a game drive with a professional guide, available daily, is an absolute must and is not to be missed. Having seen the cheetahs, giraffes, lions and leopards in their natural habitat, it's time to head back to the house to relax and indulge, with first-class facilities and no shortage of luxury. Lie back on a poolside lounger looking out over the plains or head indoors to the salubrious tented spa suite, the choice is yours.
18. 137 Pillars House – Chiang Mai, Thailand
Life is laidback in Chiang Mai, with visitors drawn to 137 Pillars House to escape and indulge in a tranquil environment that oozes Oriental elegance. This is a special place indeed, a painstakingly-restored old house, which remains true to Thai traditions whilst offering guests all the modern services and amenities imaginable. With 30 luxurious suites to choose from, impeccable gardens to explore and a spa, pool and gym to enjoy, you'll be certain to find peace here.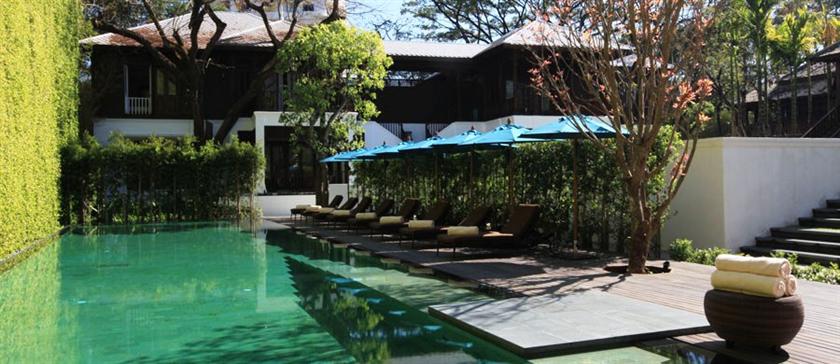 Set on the Mae Ping River, Chiang Mai is a fascinating city, the unofficial capital of northern Thailand, but a place far less frenetic than the much-busier Bangkok. For those keen to explore, 137 Pillars House is the perfect base, with classic and contemporary cocktails in Jack Bain's Bar always awaiting those who have spent their days out and about and seeing the spectacular sights.
17. The Nam Hai – Hoi An, Vietnam
Guests head to Vietnam's Central Coast for a slice of the fine life, a luxurious retreat that boasts a private kilometre-long beach and everything you could ever wish for available on tap. Close to three enchanting UNESCO World Heritage sites, this is a location to savour, although the greatest treats are discovered within the hotel grounds, with coconut trees aplenty, three stunning infinity pools and tranquil tropical gardens to explore.
Plump for a pool villa or, better still, a private retreat, which comes with its own butler, who is always on hand to answer your every call. Take a stroll on the sands, kayak on the East Sea or enjoy a beachside barbecue, you'll never be short of something to do here. With the sun shining on the glimmering ocean and lush greenery all around, you might just think you've died and gone to Heaven.
16. Nayara Hotel, Spa & Gardens – Arenal Volcano National Park, Costa Rica
Life moves at a slower pace at Nayara, a picturesque oasis of calm and quiet, perched on a cliff in the tranquil heart of Arenal Volcano National Park, with lush forests all around and the world at peace. Guests head here to escape modern life and all its stresses, and it doesn't take long for troubles to melt away, with fine food, world-class service and revitalising spa treatments always on the agenda.
There are adventures to be had here, but for most, the benefits are to be found on site, whether lying back in a hammock or heading for a lounger beside the ever-inviting pool. The environment is important at a resort that celebrates its ecological significance and, amongst the attractions is a sloth sanctuary. Spend long here and you'll start to feel like a sloth yourself, there really is nowhere better for lazing around.
15 – Katikies Hotel – Santorini, Greece
Gleaming in the Santorini sunshine, Katikies is a sight for sore eyes, set on a stunning hillside, with views out over the glistening azure ocean that must be seen to believed. Guests head here to relax in style, with three inviting infinity pools and countless luxurious loungers, all perfectly positioned amongst the manicured bougainvillea and ideal for soaking up the afternoon sun.
Opulent and elegant, this is a romantic spot indeed, with facilities galore and the emphasis on personal service. Like to take a break from the sun? The rooms here are a delight, with fine cottons that rustle in the cooling breeze and verandas that look out over the caldera and the shimmering seas beyond. The Oia Santorini sunset makes for the perfect end to a dreamy day and is best enjoyed with a glass of Champagne from the sophisticated poolside bar.
14 – Gateway Canyons Resort & Spa – Gateway, Colorado
Keen to channel your inner cowboy? Gateway Canyons puts guests in the heart of the action, set amongst the breathtaking red sandstone walls of Colorado's Unaweep Canyon, with the focus on the great outdoors and American adventures aplenty. There's no shortage of luxury here, but the main draw is the sprawling natural landscape, which beckons visitors seeking an authentic taste of the old West.
Experience a cattle drive or take cowboy lessons, the choice is yours, but with an adventure centre on site and Colorado and Utah's spectacular National Parks on the doorstep, your main challenge might be trying to squeeze everything in. Seeking something a little less active? With its swimming pools, spa and five top-class restaurants all at your disposal, you'll find that there are plenty of opportunities to kick back and relax beneath the beautiful blue skies here.
13 – Hotel Castello di Casole—A Timbers Resort – Casole d'Elsa, Italy
Timeless and quintessentially-Tuscan, indulgence awaits at Castello di Casole, set amongst beautiful rolling hills, sprawling vineyards and olive groves, and offering classic Italian elegance that beckons guests seeking the finer things in life. Combining the old and the new, all mod cons can be found inside the 1000-year-old castle walls and, with a 4,200 acre private estate to explore and enjoy, you'll never be short of things to do.
Life here feels like a fairytale and, with world-class wine and the finest locally-sourced food always on the menu, this is a place where dreams come true. Choose from 39 rooms and suites, all oozing Italian sophistication, before heading out to the poolside to relax on a luxurious lounger, cocktail in hand, beneath the beating Tuscan sun. With a tranquil spa amongst the facilities, you'll soon feel your stresses melt away. The trouble is, you'll never want to leave.
12 – Lion Sands Game Reserve, Sabi Sand Game Reserve – South Africa
Set on the beautiful banks of the peaceful Sabie River, guests head to Lion Sands to safari in style, with intimate experiences always on the agenda and no shortage of animal encounters. Straddling the private Sabi Sand Game Reserve and the stunning Kruger National Park, this is a special place indeed, with breathtaking views and sights and sounds that captivate all who are fortunate enough to visit.
See the animals gather at the water's edge each morning or, for the ultimate treat, spend an unforgettable night beneath the stars in a luxurious treehouse, a once-in-a-lifetime experience that puts you right at the heart of wild Africa. With lions, leopards, elephants, rhinos, giraffes, hippos, zebras and more all to spot, animal lovers will be in their element here. For those seeking true adventure African-style, there's nowhere quite like it.
11 – Four Seasons Tented Camp Golden Triangle – Chiang Rai, Thailand
Camping doesn't get more luxurious than this, the Four Seasons Tented Camp in northern Thailand, where guests head to spend time with the renowned rescued elephants before retreating to the jungle spa to rest, relax and rejuvenate. Close to the borders with Burma and Laos, time seems to stand still in the Golden Triangle, a magical escape that always enchants and beckons visitors to return time and time again.
This is a magical place indeed, with its mysterious mountain trails and lush bamboo jungle to explore, but there's nowhere better to soak it all up from than the comfort of camp. Lie back in your breezy tented living area, take in the captivating views all around and then head for a refreshing outdoor shower, there's nothing quite like it. Services and amenities? You'll find them all here, with no shortage of style.
10 – The Lodge at Glendorn – Bradford, Pennsylvania
Outdoor adventures await at The Lodge at Glendorn, with 1500 acres of grounds to explore and experiences and activities for all. Bordering the beautiful Allegheny National Forest in northwestern Pennsylvania, this is a luxurious retreat indeed, with the emphasis on the stunning natural surroundings and agendas tailored to meet your mood.
With 16 uniquely-designed accommodations to choose from, you'll be tempted to put your feet up and relax, but such is the pull of the great outdoors here, you'll be drawn to get active more often than not. There are 18 miles of hiking trails to explore and trout ponds and mountain streams to fish, not to mention canoeing, kayaking and paddle boarding on Bondieu Lake. Busy day? Never fear. Evenings spent relaxing by your private cabin with its own outdoor fire pit will have you ready to do it all over again tomorrow.
9 – Montage Kapalua Bay, Lahaina – Maui, Hawaii
Soak up the Maui lifestyle at Montage Kapalua Bay, where 24 acres of tropical paradise await and you can do as much or as little as you please. It's impossible not to relax in such a spectacular setting, with the Hawaiian sun glistening on the peaceful Pacific Ocean and all calm and quiet in the lush island gardens.
Guests head here to sample the authentic culture and Hawaiian hospitality, and with an award-winning spa and fresh locally-sourced food always on the menu, time spent here is a treat indeed. Choose a room with a garden or ocean view or, for those keen to push the boat out, plump for the penthouse, a four-bedroom residence that offers the ultimate in luxury, with the sound of the lapping ocean always drifting in through the windows. Like to explore the island? With so much on offer here, you'll never be short of something to do.
8 – Alpina Gstaad – Gstaad, Switzerland
Perched on a hillside overlooking a picturesque Swiss ski village, with classic chalets dotted amongst the trees and a mountainous backdrop towering over all, Alpina Gstaad provides the perfect hideaway for those seeking a stylish and private retreat. Small and exclusive, with just 56 rooms and suites, guests head here for discreet luxury, with Michelin-starred restaurants on site and a famed wine cellar that offers more than 1700 different selections.
The emphasis on comfort and privacy, this is a modern hotel indeed, with personalised experiences ensuring guests receive a service that is tailor-made to meet their particular needs and requirements. Relax in front of a roaring fire or head out onto your private terrace to soak up the spectacular Alpine views, the choice is yours. Five-star service in a breathtaking location, you'll be sure to leave rejuvenated and desperate to make a return visit.
7 – The Peninsula Shanghai, China
Like to arrive in style? Make a grand entrance at The Peninsula, where guests often turn up in a helicopter, Rolls Royce Phantom or aboard a private yacht, and nothing is too much to ask. The ultimate in luxurious living, everything is provided here, and with the emphasis on personal service and spectacular views to die for, you'll never want to leave.
Soak up the atmosphere in the grand lobby, with its high ceilings and chandeliers, before heading to a room that must be seen to be believed. Like a terrace, a private jacuzzi and gym? It can all be arranged. For those able to tear themselves away from their rooms, Sir Elly's Rooftop Bar offers the best views in Shanghai. Head upstairs for a cocktail and prepare to be amazed as the city's lights start to come on and the skyline comes to life.
6 – Singita Sabi Sand, Sabi Sand Game Reserve – South Africa
Like to see big game at close quarters? There's nowhere better than Singita Sabi Sand, which beckons guests seeking an authentic African adventure with its stylish and sophisticated lodgings. Spanning a vast area and adjacent to the renowned Kruger National Park, this is a private reserve like no other, with visitors drawn to its open spaces and natural beauty, and the region's best big game never far away.
The emphasis is on sustainability, conservation and preserving South Africa's awe-inspiring wildlife, and with guest numbers and vehicles limited, this is the perfect retreat for those keen to rest, relax and get away from it all. Inspired by the natural surroundings, the luxurious lodges celebrate Sabi Sand's tranquility, space and light. With views to savour, and a whole host of animals wandering past, this is a truly immersive safari experience that is not to be missed.
5 – London Marriott Hotel County Hall – London, England
If it's all about location, location, location, it's hard to do better than this, a luxurious hotel with a superb South Bank setting and London's top attractions all on the doorstep. Iconic and exclusive, guests head here for the unbeatable views, with Big Ben, the London Eye and the Houses of Parliament all just a glance out of the window away. Like to visit the attractions for yourself? Nowhere is more than a short hop from here, with Central London beckoning and your agenda your own.
There are rooms and suites for all here, with balconies and river views for those keen to push the boat out. Take afternoon tea, a quintessentially-English tradition, before heading out to a museum and then on to the theatre, there's so much to do and it couldn't be easier to access. Thinking about visiting London? Be sure to see it in style.
4 – Twin Farms, Barnard, Vermont
Hospitable and homely, Twin Farms couldn't be more welcoming, with guests drawn to the roaring fires and surrounding forests and nothing here too much trouble. There's accommodation to suit all tastes, including secluded cottages dotted around 300 wooded acres, farmhouse suites, lodges and rooms in the main house. No matter your choice, all are designed with a home-from-home feel in mind, with astounding amenities and an emphasis on service making this a special place to visit indeed.
There are outdoor activities and adventures for all, from canoeing and cross-country skiing to fly fishing, hiking and sledding (and it's not just for the kids). Like to take things a little easier? Get the kitchen to pack up a picnic, tackle a puzzle in peace or head along to the luxurious spa. The choice is yours, but whatever you decide to do, you must always be sure to make yourself at home.
3 – Southern Ocean Lodge – Kangaroo Island, Australia
Perched atop the rugged cliffs that overlook the fierce seas beyond, Southern Ocean Lodge is at one with its spectacular surroundings. The natural world is celebrated in style here, with views to savour out over the waves and wonderful wildlife all around. Spot seals, koalas and, of course, kangaroos, in a unique and exclusive environment, with 21 luxurious suites to choose from, each designed with comfort, seclusion and sophistication in mind.
Foodies will be spoilt for choice at Southern Ocean Lodge, with fresh, natural ingredients providing gastronomic delights and the finest seafood always on the menu, whilst those keen to kick back can head to the spa, a private oasis of calm that is guaranteed to relax. For those seeking adventure, guided excursions are always on offer. Explore the island before to returning to see the sun set from the comfort of your lodge.
2 – Le Méridien – Bora Bora, French Polynesia
Nestled on the pristine white sands of an exotic island and surrounded by the warm cerulean waters of a private lagoon, Le Méridien beckons visitors to Bora Bora with a location that is hard to beat. Boasting natural wonders in an abundance, this is a tropical paradise that must be seen to be believed, all overlooked by Mount Otemanu, with its lush green forests that rustle in the relaxing sea breeze.
Tranquil, romantic and always peaceful, this is the perfect retreat for those keen to escape modern life and all its pressures, with its glass-floored overwater bungalows providing a fascinating glimpse of the marine life here, and all luxuries on tap. Dine in the resort's three restaurants, visit the turtle sanctuary or just lie back with a book and soak up the sun, you're free to take life at your own pace.
1 – Nihiwatu – Sumba, Indonesia
Private, picturesque and perfect in all ways, guests head to Nihiwatu for luxury on tap, with spectacular views to die for and attentive staff trained to cater for each and every wish. Nothing is too much trouble here and with the breathtaking beaches always beckoning, you'll find yourself immersed in paradise from the moment you arrive.
Nestled between the sun-kissed ocean and the lush green jungle that fringes the coastline here, this is a tranquil spot indeed and for those seeking exclusivity, it doesn't get much better. Relax on a poolside lounger, catch the breakers at a renowned surfing spot or explore the surrounding rainforest on horseback, the choice is yours. With activities and options to suit all tastes, you'll never want to leave this exquisite spot in the sun.
Source: TravelDen
BLOG COMMENTS POWERED BY DISQUS